ACW* X Dr. Martens - 1461 Work Shoe
Minimal, precise, this latest iteration of the ACW* 1461 calls on a trademark Dr. Martens palette; black signalling a democratic and consciously utilitarian approach to design. Collaboration now offline.
Released in 1961, Dr Martens' robust take on the formal derby began life as a versatile, everyday work shoe, both understated and dependable. As decades passed the silhouette's narrative shifted, the 1461 becoming standard uniform for youth movements around the globe, its austere form attracting fans from across the subcultural spectrum.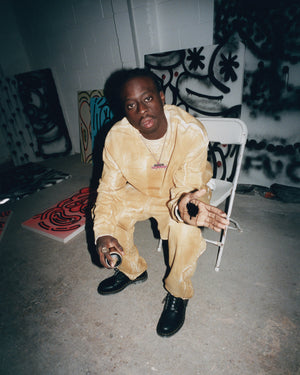 A-COLD-WALL* capture artist and co-founder of skate collective Motherlan, Olaolu Slawn, in his London studio. The Lagos native and self-taught painter puts the ACW* Dr. Martens 1461 to work, backdropped by his vivid canvases.
Contrast matt rivets, graphic panelling and metallic foil branding are joined by a cocooned lace system, white upper stitching and a translucent sole in this second installment of the ACW* Dr. Martens 1461. An evolved expression for this enduring style.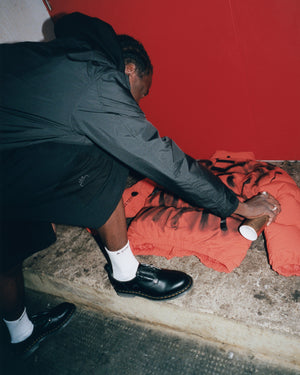 Here, the classic 1461 workwear derby is placed in contemporary context. A footwear icon born of practicality, the silhouette's subcultural narrative takes on new meaning in this architectural update. An evolved expression for this enduring style.